Discover more from De Civitate
"And when the last law was down, and the Devil turned 'round on you, where would you hide, Roper, the laws all being flat?"
Vigano Clearinghouse Thread [Finished]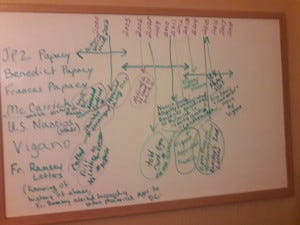 The whiteboard right now at a house of a friend of mine. Look for a digital conversion of this as soon as I get the time! I've spent the weekend absorbing the explosive testimony of Archbishop Carlo Maria Viganò, who claims that many people in the Vatican, including Pope Francis, ignored the homosexual harassment and abuse of adult seminarians by Theodore Cardinal McCarrick. Viganò makes a lot of factual claims in his statement, and Catholic media is struggling to confirm or disprove as many of them as possible. (The mainstream media is transparently not bothering; they are instead investigating Viganò personally.) I am having trouble keeping track of all of it, and I'll bet you are, too. This thread is simply an attempt to gather all the relevant documents into one place where I can keep them all straight. I am no longer actively updating this listing, as I feel we have covered the main questions of the original Vigano testimony pretty well, and the core questions of fact are settled. Have I missed anything? Let me know in the comments! Do you have unpublished information that you want to share? You can contact me at my Gmail account (username "james.j.heaney"). My account is as secure as a Google email account can be. Is that insufficient? Then contact J.D. Flynn, editor-in-chief of Catholic News Agency, at his encrypted, secured email address: c831news@tutanota.de. (Be sure to contact him from a secure, encrypted email address of your own; I recommend signing up for a free encrypted account from tutanota.com.)
I. The Testimony
The Testimony Itself
Testimony of Carlo Maria Vigano, 22 August 2018
A Useful Supplement
A friend of mine, Charles Corbett, put together a remarkably detailed Google Spreadsheet laying out the timeline of events and (perhaps most importantly) personnel assignments in various offices during the period discussed in Vigano's testimony. He's still expanding it, but check it out!
Did Pope Benedict sanction Cardinal McCarrick?
Yes, he did, but they were informal rather than formal sanctions. This was much disputed for weeks (as the links below show), but the facts were clearly established by Cardinal Ouellet in his letter of 7 October 2018:
The former Cardinal, retired in May of 2006, had been requested not to travel or to make public appearances, in order to avoid new rumors about him. It is false, therefore, to present those measures as "sanctions" formally imposed by Pope Benedict XVI and then invalidated by Pope Francis... [T]he letters from my predecessor and my own letters urged him, first through the Apostolic Nuncio Pietro Sambi and then through you, to lead a life of prayer and penance, for his own good and for the good of the Church.
Ed Pentin, National Catholic Register, 25 August 2018 confirms sanctions:
The Register has independently confirmed that the allegations against McCarrick were certainly known to Benedict, and the Pope Emeritus remembers instructing Cardinal Bertone to impose measures but cannot recall their exact nature.
Die Tagespost, 28 August 2018: Archbishop Gänswein, private secretary to Pope Benedict, denies any direct papal comment on the overall testimony [GERMAN - Google Translated] (notably, this isn't exactly what the Register claimed):
"Pope Benedict has not commented on the 'memorandum' of Archbishop Viganò and will not do so," Gänswein told the newspaper. The claim that the emeritus Pope had confirmed the statements lacked any foundation. "Fake news!" Says Gänswein.
Ed Pentin, National Catholic Register, 28 August 2018, "Archbishop Gänswein's Comments Were Correct and We Stand By Our Reporting":
"Archbishop Gänswein did not go into any more details, but he did not refute that Benedict issued sanctions. The Register fully stands by its reporting, drawn on sources close to the Pope Emeritus, that sanctions were issued by Benedict against McCarrick."
Ed Pentin, National Catholic Register, 31 August 2018, "Further Questions Emerge About Benedict XVI's Sanctions on McCarrick."
As far as Benedict could recall, the source said the instruction was essentially that McCarrick should keep a 'low profile.' There was 'no formal decree, just a private request.' ...McCarrick continued to be "very able" and "influential at high levels — ecclesiastical, cultural and political" and so could ignore the sanctions imposed upon him.
Lisa Bourne, LifeSiteNews, "EXCLUSIVE: Viganó doubles down: McCarrick was restricted under Benedict, but 'he didn't obey.'"
Although LifeSiteNews is a bad, often dishonest source, it is impossible for this page to ignore their exclusive interview with Vigano, in which Vigano explains several instances where McCarrick was seen to violate the alleged sanctions on him.
Ed Condon, Catholic News Agency, "Former nunciature official: 'Vigano said the truth'", 26 August 2018
This piece simply reports that Monsignor Jean-François Lantheaume, named several times in the Vigano testimony, confirms the testimony. Lantheaume, former first counselor at the nunciature in Washington, thus confirms that he overheard a shouted conversation wherein Nuncio Sambi informed Cardinal McCarrick of Vatican sanctions placed upon him. This also confirms a conversation Lantheaume had with Cardinal McCarrick in July 2013, where McCarrick used words that Vigano alleges were very similar to words used by Pope Francis in June 2013.
Lantheume Facebook Chat Excerpts, posted by Hilary White, What's Up With The Synod?, 27 August 2018
These excerpts include a screenshot, but screenshots can be easily doctored, and the source is not highly reputable, so this must be considered unconfirmed.
Fr. Matt Malone, S.J., America, 26 August 2018, "McCarrick's public behavior showed zero indications of sanctions" [mirrored from Twitter]
Between 2011, when Vigano says McCarrick was already under sanction, and 2013, when Pope Benedict resigned, McCarrick acted in ways that clearly violated the sanctions Vigano says were imposed upon him, including directly in front of Pope Benedict. He preached at St. Patrick's Cathedral, joined the American bishops' ad limina visit to the Vatican, and other events that demonstrate McCarrick was either brazenly flouting his sanctions or did not have any.
Nicole Winfield, A.P., 28 August 2018, "Pope's alleged cover-up pivots on if and when sanctions were imposed on McCarrick"
"The historical record is rife with evidence that McCarrick had lived under no such restrictions. He traveled widely, including for Catholic Relief Services, the humanitarian branch of the U.S. church. He went to Iran in 2011 with a religious delegation to try to win the release of two American hikers arrested after crossing the border. He celebrated Mass publicly. He traveled to Rome with the entire U.S. conference of bishops for their once-every-five-year visit in 2012 and was even on hand for Benedict's final general audience on Feb. 27, 2013. In a 2010 video posted on YouTube, McCarrick was shown visiting the national seminary in Haiti that had been damaged earlier by the devastating 7.0-magnitude earthquake. 'The boys are still living in tents,' McCarrick said as young Haitian seminarians were shown milling about."
Michelle Boorstein, Washington Post, 31 July 2018, "As rumors of sexual misdeeds swirled, Cardinal McCarrick became a powerful fundraiser for the Vatican"
This story predates the Vigano testimony, but contains a remarkable passage near the end:

"McCarrick retired as archbishop shortly after he turned 75, in 2006. It's standard for bishops to offer their retirement to the Vatican at that age, but it's common for them to keep working for years if both sides wish. McCarrick was a hard-working striver whose routine didn't appear to slow until very recently.

"He remained extremely active in the church, traveling on diplomatic missions, fundraising and officiating weddings and baptisms.

"The person who worked with McCarrick ["a person active in church organizations who collaborated on causes with McCarrick"] said they suspect church leaders in Rome had chastised McCarrick in some way, telling him to pull back from public life.

"'But he did whatever he damn well wanted,' the person said."

This could refer to the sanctions allegedly Benedict placed on McCarrick in 2009 or 2010, but, given the timing, more likely refers to the sanctions Cardinal Wuerl allegedly placed on McCarrick in 2017 or 2018.
David Gibson, Religion News Service, 21 June 2014. "Globe-trotting Cardinal Theodore McCarrick is almost 84 and working harder than ever"
This is suggestive, but no more than that:

"McCarrick is one of a number of senior churchmen who were more or less put out to pasture during the eight-year pontificate of Pope Benedict XVI. But now Francis is pope, and prelates like Cardinal Walter Kasper (another old friend of McCarrick's) and McCarrick himself are back in the mix and busier than ever."
Did Vigano Tell Pope Francis About McCarrick?
It seems pretty unlikely we'll be able to prove this one way or another, but we can look at Vigano's account of his meetings with Pope Francis and see what can be proved. Catholic News Service, 29 August 2018, "Pope Meets Archbishop Vigano."
This accords with Vigano's account of his meeting, except that Pope Francis just doesn't seem as unfriendly as Vigano presented him. The timing of the cutaway is very unfortunate.
When did Rome learn about McCarrick's abuse of adult seminarians?
Joan Desmond, National Catholic Register, 28 August 2018, "Whistleblower Father Boniface Ramsey Reacts to Archbishop Viganò's Letter"
Confirms Viganò's claim that, with some prompting from then-nuncio Archbishop Montalvo, Fr. Boniface Ramsey sent a letter to the nunciature in 2000 notifying them of McCarrick's abuse. Viganò further asserts that the letter was swiftly passed on to Rome, but Fr. Ramsey has no knowledge of that.
Gerard O'Connell, America, 30 August 2018, "Vatican officials refuse to discuss Viganò's letter, encourage journalists to study it."
"Apart from the question of the sanctions, America has learned from a Vatican source that even before John Paul II appointed Archbishop Theodore McCarrick to Washington, D.C., in 2000, it was already known by some in the Secretariat of State, and perhaps in other parts of the Roman Curia, too, that the archbishop was taking seminarians to his beach house."
What did Cardinal Wuerl know and when did he know it?
Ed Condon, Catholic News Agency, "Where did retired McCarrick live after seminary?" Statement of the Archdiocese of Washington on the Testimony, 27 August 2018, denying direct knowledge of any sanctions Christopher Altieri, Catholic Herald, 27 August 2018, "Spokesman confirms Cardinal Wuerl cancelled meeting"
Vigano stated in his testimony that he called Cardinal Wuerl to request that an event between McCarrick and seminarians be cancelled, saying that it was clear to him that Wuerl understood why this was necessary. An archdiocese spokesman confirms that the cancellation took place, but not that the cardinal knew the reasons why.
Ed Condon, Catholic News Agency, 30 August 2018, "Seminarians were McCarrick aides amid abuse investigation."
What did Cardinal Tobin know and when did he know it?
Letter of Cardinal Tobin to Newark Priests, 17 August 2018. [imgur mirror]
"...no one — including the anonymous 'sources' cited in the article — has ever spoken to me about a gay subculture in the Archdiocese of Newark."
Mike Kelley, New Jersey Record, 31 August 2018, "The secret life of Catholic Cardinal Theodore McCarrick and reports of sex abuse"
Cardinal Tobin claims he was not told about the McCarrick settlements and that he had heard "rumors" about McCarrick's beach house, but dismissed them as incredible.

This story also claims that Tobin is launching an internal investigation to find out why he wasn't told these things. If truly independent, the investigation will likely tell us whether he is lying about any of this.
What else did Viganò say that has been corroborated or denied?
Letter of Archbishop Cordileone (San Francisco), 29 August 2018, with a very vague statement that corroborates... something:
"Moreover, while having no privileged information about the Archbishop McCarrick situation, from information I do have about a very few of the other statements Archbishop Viganò makes, I can confirm that they are true.  His statements, therefore, must be taken seriously."
II. Viganò's Credibility
Why did Vigano do this? Aldo Maria Valli, 27 August 2018, "Archbishop Vigano gave me his testimony. This is why I published it." [Italian original - English translation here] Aldo Maria Valli, 29 August 2018, "Vigano Speaks: 'I am not the crow and I do not want revenge.'" [Italian original - English translation here] Michael Sean Winters, 26 August 2018, "Vigano letter exposes the putsch against Pope Francis"
This piece violates my "primary sources only" rule with, essentially, speculation and imputed malevolence, but I felt it important to represent the strong pro-Francis narrative that says Vigano is doing this for ideological reasons.
Did Viganò quash the Nienstedt Investigation?
Memo of Fr. Dan Griffith to Bishops Piché and Cozzens, 7 July 2014
Pages 5 and 6 are quite damning toward Viganò, based on the account given Fr. Griffith by Bishops Cozzens and Piche.
Affidavit of Jennifer Haselberger, 14 July 2014. Noted here principally for the striking statement:
"...it was and is my opinion that the worst possible situation from a child protection standpoint would be one where Bishop Piché would assume even temporary governance of the Archdiocese. I say this because, in my experience, Bishop Piché was a bigger obstacle than Father McDonough to any sort of movement towards truly implementing the requirements of the Charter."
Letter from Archbishop Vigano to Cardinal Ouellet, 13 November 2014 [ITALIAN]
Translation of the above letter into English [mostly Google Translate with a little help from me]
Letter from Bishop Piché to Cardinal Ouellet, 20 November 2014 Jennifer Haselberger says what she knows of the investigation, 17 June 2015 New York Times reports on Griffith Memo, 21 July 2016. (The Memo was released that week after legal agreement with Ramsey County attorney to end criminal investigation of Archdiocese of Saint Paul and Minneapolis.) Statement of Archbishop Vigano on the Nienstedt Affair, 26 August 2018 Response of Fr. Dan Griffith to Vigano's Statement, 28 August 2018
"I stand by my July 2014 memo to Bishop Lee Piche."
John Allen, Crux, 31 August 2018, "Questions Still Surround Papal Accusers's Role in Nienstedt Probe."
Mostly notable for the revelations that Cardinals Dolan and O'Malley were aware of the allegations against Nienstedt, specifically that O'Malley personally asked the Pope to accept his resignation.
Bishop Cozzens' Statement, 31 August 2018
"When Bishop Piché and I believed that we were being told by the nuncio to close the investigation, we strenuously objected. When the nuncio clarified that we should focus the investigation and complete it, we did so."
Is Viganò now in hiding?
BBC, 28 August 2018, "Pope critic Archbishop Vigano 'in hiding'"
...but he sure gives a lot of interviews for a guy in hiding.
III. Pope Francis's Credibility
What has Pope Francis said about the Viganò testimony?
Full Text of Pope Francis's In-Flight Press Conference, 26 August 2018, in which Pope Francis refuses to comment on the testimony.
Has Pope Francis tolerated abusers in the past?
SNAP, 16 June 2014, "Pope Francis will meet with the wrong people"
"Ariazco never got a reply when she wrote to then-Cardinal Bergoglio. Cuattromo was rebuffed when he sought help from then-Cardinal Bergoglio. And Varela was belittled by Bergoglio's staff and forcibly removed from Bergoglio's office by security."
Ana Delicado, Publico, 3 May 2013, "The Pope Covered Up Priest's Abuse of My Son." Carol Glatz, Catholic Herald, 15 September 2015, "Vatican releases list of participants for Synod on the Family." Significant because Pope Francis specifically and personally invited disgraced Cardinal Danneels of Belgium, who was caught on tape trying to protect a sex abuser from criminal charges. The Local (Spain), 20 November 2014, "'Paedophile Priests' acted like a cult: report." In this story, the Pope heard an accusation and intervened directly in the case to ensure it was fully investigated. (Ultimately, the story was not corroborated and a the accused was acquitted, but the papal intervention still spoke well of Francis's interest in preventing and punishing abuse.) Nicole Winfield, Associated Press, "Pope quietly trims sanctions for sex abusers seeking mercy," describing how Pope Francis relaxed penalties Pope Benedict had imposed on abusers and discarded recommendations of his own sex abuse panel to deal with abusive bishops. Der Spiegel, September 2018, "The Silence of the Shepherds," a fairly devastating cover story, from a formerly sympathetic newspaper, describing Pope Francis's abdication of leadership.