Discover more from De Civitate
"And when the last law was down, and the Devil turned 'round on you, where would you hide, Roper, the laws all being flat?"
Alito's Concurrence in FUCT Case
I was surprised to see Justice Alito joining the Supreme Court majority in Iancu v. Brunetti today.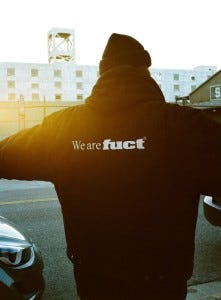 Seriously, dude, not one living human believes you, including your own customers. This is a trademark case. The U.S. Trademark Office rejected a trademark for the brand "FUCT" because of a law (the Lanham Act) that says trademarks should not be granted for "immoral or scandalous matter." The guy who runs FUCT insists that it isn't obscene, and actually you're supposed to pronounce it by spelling it out: F-U-C-T. The U.S. Supreme Court decided today, 6-3, that (1) hahahaha nobody believes you, dude, and (2) nevertheless, this law violates the First Amendment. Therefore, the trademark must be granted to FUCT. Justice Alito joined that decision. But this struck me as odd. Alito is the Supreme Court's obscenity-hater-in-chief and its champion against moral relativism. In Snyder v. Phelps, the Supreme Court ruled that Fred Phelps and the Westboro Baptist Church could not be sued for inflicting emotional distress after their obscene protest of a dead soldier's funeral, because of the First Amendment. In that case, Alito stood alone to dissent. He would have allowed the soldier's family to sue Phelps for a lot of money. That's who Alito is. You might call him the Supreme Court's moral scold. I call him that lovingly, because I tend to agree with him. The First Amendment protects many kinds of speech, especially political speech and its constituent activities, but also religious speech, art, and the general free exchange of ideas, information, and stories. As American culture becomes more and more polarized into two separate and isolated camps, each increasingly inclined to silence the other, we need a strong First Amendment now more than ever (hence the Court's correct decision in Citizens United*). But the Supreme Court has repeatedly held throughout its history that the First Amendment's protections do not extend to obscenity. Obscenity is not free speech per se, in the Court's view. Thus, it is perfectly legal to outlaw pornography. It has been illegal throughout nearly all of the country throughout nearly all of its history. Indeed, pornography is technically still illegal in most places today (here is Minnesota's anti-porn statute; your state likely has a similar one)... but it's difficult to enforce, thanks to some Supreme Court precedents that make it difficult to prove that something really is porn (not art). The barrier-smashing power of the Internet, too, has made enforcement nearly impossible. However, Justice Alito remembers that, despite barriers to enforcing anti-obscenity laws today, obscenity is still not actually protected speech. He sometimes seems to be the only member of the Supreme Court who does. And here he is ruling in favor of a brand called FUCT? So I looked up his concurring opinion. And it's good! I really like the distinctions he draws. Were I a justice on the Supreme Court, I'd join it. I'm going to reprint the whole thing here. Don't worry; it's short.
For the reasons explained in the opinion of the Court, the provision of the Lanham Act at issue in this case violates the Free Speech Clause of the First Amendment because it discriminates on the basis of viewpoint and cannot be fixed without rewriting the statute. Viewpoint discrimination is poison to a free society. But in many countries with constitutions or legal traditions that claim to protect freedom of speech, serious viewpoint discrimination is now tolerated, and such discrimination has become increasingly prevalent in this country. At a time when free speech is under attack, it is especially important for this Court to remain firm on the principle that the First Amendment does not tolerate viewpoint discrimination. We reaffirm that principle today. Our decision is not based on moral relativism but on the recognition that a law banning speech deemed by government officials to be "immoral" or "scandalous" can easily be exploited for illegitimate ends. Our decision does not prevent Congress from adopting a more carefully focused statute that precludes the registration of marks containing vulgar terms that play no real part in the expression of ideas. The particular mark in question in this case could be denied registration under such a statute. The term suggested by that mark is not needed to express any idea and, in fact, as commonly used today, generally signifies nothing except emotion and a severely limited vocabulary. The registration of such marks serves only to further coarsen our popular culture. But we are not legislators and cannot substitute a new statute for the one now in force.
The full slip opinion is here; Alito's concurrence is on pages 14 and 15 of the PDF.
*I know Scalia's concurrence isn't the controlling opinion in Citizens United, but it'll be a cold day in Hell when I link favorably to a Kennedy-penned opinion in a case where literally anybody else in the majority wrote on the central question of the case.
The editor wishes to disclose that he successfully, if barely, resisted the temptation, nearly universal among bloggers this morning, to make this article's title a "FUCT" pun.