Discover more from De Civitate
"And when the last law was down, and the Devil turned 'round on you, where would you hide, Roper, the laws all being flat?"
2018 West Saint Paul Municipal Voters' Guide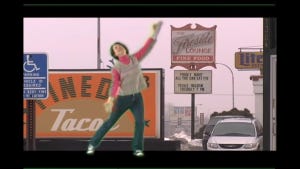 Come on over to West St. Paul / Summer, spring, winter, fall / we've got it all / in West St. Paul (SOURCE: the city anthem) Fellow residents of West Saint Paul: Tomorrow, we vote. I have done a little research on the races in our city, and I have some gentle recommendations.
Table of Contents
A. Introduction: Robert Street B. Mayor: Fernandez vs. Napier C. Ward 2: Justen vs. Probst D. Ward 3: Berry vs. Meisinger E. Ballot Question: Sales Tax
Introduction: All Roads Lead To Robert Street
I think it's time we admit that the Robert Street renovation was a serious mistake, and vote accordingly. Robert Street was in bad shape. I can't deny that. I've been driving Robert since 2006, when I started taking my high-school girlfriend (who lived just off Smith) out to such fine establishments as the West Side Lanes, Party City, and Sketchy Perkins.* Robert Street was easily the worst part of our dates. *That is, Perkins on Robert, but after midnight. Sure, there were advantages to the Robert Street of the old days: you could order a meal at Pollo Campero and then careen out of their parking lot across five lanes of traffic to arrive at Granny Doughnuts, as God intended. But there were also disadvantages: you could be driving along minding your own business when some psychopath careens out of the Pollo Campero parking lot across five gorram lanes of traffic just to get some Granny Doughnuts! It's enough to drive a man to Booze Mart—or even Booze Mart II! (Or, more likely still, to Cherokee Service or Zak's Auto.) Most importantly, Robert was in very bad repair. I've heard that ambulances refused to drive on it after it got real bad. In certain places, driving Robert was almost as bad as driving on... well... literally any street in Regular Saint Paul, in March, right after the snow melts. Robert Street did really need some help. We were fortunate, in 2010, to secure $8 million in federal grant money for a renovation and resurfacing. But then we went kinda nuts with it. Our $8 million of federal money went toward a project that was expected to cost $10 million. Then $20 million. Then $30 million. Then $40 million. Then, finally, we ended up spending closer to $50 million. (My wife: "gasp! For that kinda money, we probably coulda built a whole second sports bubble!") This massive cost overrun was spurred by a city council that refused to cut nice-to-have features from the project even as the costs of the essentials kept spiraling upwards. But fine. It's okay to spend money if you have it, especially to get cool stuff like... new traffic lights. (Okay, I guess.) But, the point is, we did not have money. Not that much money. Now we're deeply in hock:
The debt "makes it more difficult for the city to complete major maintenance on the rest of the streets within the community," [City Manager Ryan] Schroeder said. "The council has looked for ways to recover from that."

West St. Paul will ask voters to approve a half-cent sales tax in November to pay for future street projects, a move the City Council said is necessary because of the steep cost of having to rebuild Robert Street. (SOURCE)
This despite the fact that we've seen double-digit property tax increases in the past few years already, largely to help pay for the Robert Street rebuild!
[EDIT: In the comments, I was corrected on this; the overall size of the property tax levy increased 10% in 2018 and maybe-but-probably-not in 2019 but was under 10% in 2016 and 2017. Moreover, my interest piqued, I dug into the numbers, and I found that most of the increase in the property tax levy -- in some cases, all of it -- came from increases in property values rather than tax rates. For example, in 2018, a year where the overall levy size increased 10%, the actual tax rate for the median home fell from 0.63% of the home's total assessed value to 0.61% of the home's total assessed value, even as the overall levy grew... while the same home's assessed value jumped just about 10%. So this is a much more complicated question than I first gave it credit for.]
The people on the city council who got us into this debt are now begging the State to give us more money to pay for our profligacy. That's been going on for years, it's going nowhere, and the state gave us $15 million for this project off the bat, so I'm not sure where we get off demanding more. Yeah, it's a state highway, but they didn't ask us to spend $50 million on it.
Nor did we need to! Regular Saint Paul is resurfacing their end of Robert Street starting in 2022, but they're keeping it simple. Know what they're budgeting? $11 million. How is their messed-up city government managing to be four times more fiscally responsible than ours? As ex-Mayor Dave Meisinger said way back before we got to this point, "I was against a Cadillac plan. I told everybody the Chevy would get us by." Meisinger vetoed the project plan passed by the city council in 2014. But they overrode him, and the plan went ahead. Now we have a median (okay, I guess), but we don't have the money to keep our other streets in good repair. (But we're still hellbent for leather to get state money to finish the bike lane beneath Robert! Priorities!)
As someone who grew up in Regular Saint Paul, this terrifies me.
One night, early on in my first winter as an official resident of West Saint Paul, I fell asleep on the couch. In the middle of the night, I was startled awake by a window-shaking rumbling outside. What was going on? Tanks! my addled just-woke-up-brain said. There are tanks coming down Emerson! The Russians are invading! It's Red Dawn! Why didn't I ever buy a gun?! As I cautiously snuck up to the window, prepared to dodge sniper fire, I realized the truth: it was actually just an incredibly enormous, incredibly effective snow plow, shoving the first serious snowfall of the year off to the side.
In the morning, I told this story to my wife, a lifelong West St. Pauler (yes, the same girl I took to Party City on dates). She said, "No, we just have ordinary snow plows here."
I replied, "What, you think my 3 AM brain exaggerated how big the plow was?"
She shook her head. "Nah, you're from Regular Saint Paul. You've probably just never seen one before."
She's not wrong. Driving in West Saint Paul in the depths of February is a positive joy compared to what I had to put up with in Regular Saint Paul. Last winter, when we got the blizzard(s) that dumped a few feet of snow on us in a couple of days? The first major wave of snow came down, as I recall, on Thursday afternoon. My street in West Saint Paul was plowed beautifully late Thursday night, then again each subsequent night. My parents, in Saint Paul? Their street was never plowed. When we went to visit, my van got stuck in the snow on their Regular Saint Paul street for a full hour... two days after the snowfall ended. (Four days after it started!)
That's typical Saint Paul governance: they tax property far higher than we do, they provide half the service (if that), the roads are undriveable for all of winter (no plowing) and most of spring (car-ruining potholes), they spend all their money on redundant bike lanes, and they don't have to care because Saint Paul voters elect the candidates from the same party in every single election regardless. I honestly didn't realize how bad I had it in Regular Saint Paul until I discovered how much better it is here in West Saint Paul.
And the excellence we enjoy in West Saint Paul depends on our road maintenance money not being (I'm sorry, guys) squandered by city officials who have eyes bigger than their pocketbooks. It would be far too easy to turn into Saint Paul. If we let ourselves continue to drift toward the tax-and-spend fiscal irresponsibility we saw over the course of the Robert Street project, that's exactly where we'll end up.
Yes, we did have to do something about Robert Street. It was a big problem. But it's a street, not a tourist attraction. The thing we needed to do was fill in the potholes so folks could drive on it safely. We went way beyond that, with a full reconstruction and overall prettification... and we couldn't afford it. It was a grave error that jeopardizes the future of our city. At the very least, according to the city, it leaves our finances in an iron lung for the next fifteen years.
In other words, by the time Robert Street is paid off, my unborn daughter will be starting to look at colleges.
The people responsible for this error should be thanked for their dedicated public service, civic spiritedness, and general good intentions. But, in my opinion, they should not be invited back for another term in office. Nor should their bad choices be rewarded at the ballot box.
Mayoral Race: Anthony Fernandez vs. Dave Napier
Given everything I've said above, this race is straightforward. Dave Napier was a city council member who supported the Robert Street project, and he stands by it to this day. Anthony Fernandez was not on the council at the time, but has repeatedly voiced skepticism and criticism. I plan to vote for Anthony Fernandez, and I politely recommend you do the same. I did watch the entire mayoral forum a couple of weeks ago, which was fun. Regular readers know that this means I'm going to give some unflattering impressions of the candidates, as I often do. This time, my impressions mostly reinforced the way I was already leaning: Mr. Napier kept talking about how we need to elect him so he can "provide quality leadership to this city so that we can unite as a community and as a council to accomplish the goals that we want." This "uniting" us and "getting everyone on the same page" so we can "move forward" was a constant theme of his. I kept flashing back to that scene in Star Wars II: Attack of the Clones, where Anakin jokingly-but-not-jokingly comes out to Padme as having... not so great politics:
ANAKIN: I don't think the system works. PADME: How would you have it work? ANAKIN: We need a system where the politicians sit down and discuss the problems, agree what's in the best interests of all the people, and then do it. PADME: That is exactly what we do. The trouble is that people don't always agree. ANAKIN: Then they should be made to. PADME: By whom? Who's going to make them? ANAKIN: I don't know. Someone. PADME: You? ANAKIN: Of course not me! PADME: But someone. ANAKIN: Someone wise. PADME: That sounds an awful lot like a dictatorship to me. ANAKIN: Well, if it works.
Now, to be clear, I do not think that Dave Napier is a Dark Lord of the Sith! He's worked at the Dodge Nature Center since before I was born. That's about the least Sithy job there is. I've no doubt he's a good man who has worked hard to do what's best for our city, and I think some of his ideas are great. But I find there is a strain of thinking in politics, particularly a certain style of the new-urban progressivism Mr. Napier embraces, that sees the government's job as mainly "getting everybody on the same page" with new-urban progressivism. And if some bloc of voters just doesn't see why we should build a sidewalk we can't afford? Well—they should be made to see, because a United City must Keep Moving Forward under Wise Leadership. Figuring out what the city actually wants, developing true consensus? This isn't on the table, because our Wise Leaders know they are looking out for our Best Interests, regardless of what some of us might actually say. That ain't great... and it leads us straight into boondoggles like the Robert Street rebuild, which went from $10 million to almost $50 million because city council reps, including Mr. Napier, refused to change course or cut scope even as Mayor Zanmiller lost his office over it and the new mayor tried to veto it. I do quite like a lot of new urbanist thinking. Bike lanes are cool. Roundabouts are good. The Robert Street median has made driving on Robert feel a lot better. I actually love sidewalks and miss them terribly. There's a lot Napier says that I'd like to see in West St. Paul. But I don't think he's the best candidate for mayor. Mr. Fernandez, for his part, seemed fine. His policies were less specific. He several times repeated his rehearsed list of "five things" he wants to do for West Saint Paul. (None of them are especially interesting or original, but they're fine; find 'em on his website.) Honestly, if you want my unflattering impression of him... he made me think of Marco Rubio. Telegenic yet not quite ready for prime time. But this also meant he was refreshingly to-the-point at moments.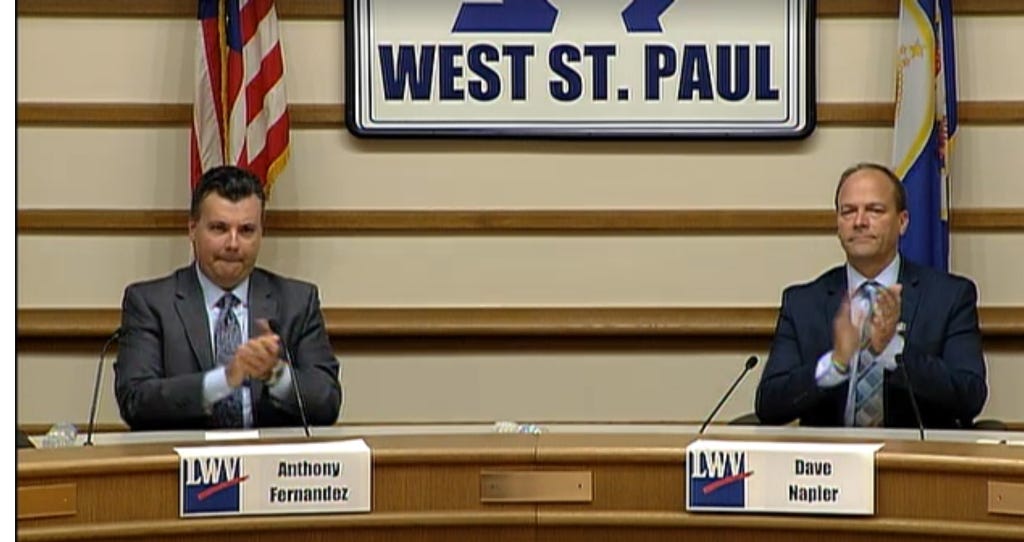 One moment that seemed to sum up both candidates really well, though, made me just about stand up and clap for Mr. Fernandez:
MODERATOR:  What do you think of limiting the number of garbage trucks using our streets? Do you have any suggestions for it? [Each candidate has two minutes to respond.] Mr. Napier? NAPIER: Ah, when this came up, I was not for it, I believed that free enterprise is important. However, one day a neighbor came up to me, this was probably six years ago or so, and asked, "Would you be willing to go with one hauler if I went around and got names and got everybody to agree to one hauler?" and we did. It has really changed our neighborhood. All the trash cans are out on one morning. It's not a beautiful thing, but it is a beautiful thing, because once they're gone we don't see a truck for the rest of the week. I believe that working with the haulers was critical. We had the haulers come in to our work sessions. All the haulers that participated came in and agreed that they can reduce the amount down to four. So I believe that reducing the number down to four is important. Right now we have six on our license in our city. If we reduce it to four and grandfather in the ones that are in there, that way if somebody buys out another company, and it goes down to five, we're not going to grant another one, to make it six. So if we can get down to four haulers, I think we're getting toward where we need to be, because when frost comes out of our ground in March, we do not allow dump trucks on the streets, because they ruin the streets. But we allow garbage trucks, which weigh just as much as a dump truck, five days a week. So we need to do that. I think it's important for our infrastructure to protect it and our children walking down the street. MODERATOR: Okay, Mr. Fernandez. FERNANDEZ: I believe in limiting the number of days, but I don't think it's necessary to limit the amount of haulers. MODERATOR: ...Okay, next question.
That kinda says it all, doesn't it? Napier with the long, winding answer where he tells a story about how his neighbors unanimously and voluntarily agreed to something as a justification for his government forcing everyone in the city to do something similar. Fernandez with a simple, "nah." (That wasn't even Fernandez's shortest answer of the night.) Given what a nightmare Regular Saint Paul is going through right now with its misguided city takeover of trash hauling (if you give a mouse a monopoly...), I'm pretty suspicious of anyone who says they "used to" believe in "free enterprise" for trash haulers and later stopped believing in it, especially for the social-engineering reasons given by Napier. I really don't care whether my neighbor's trash cans are out, and, if you do, you're a busybody. Stop it. In conclusion, I'm voting Fernandez. If you'd like an alternative view, I'll point you to Kevin D. Hendricks's blog. Mr. Hendricks has done yeoman's work covering the West Saint Paul municipal elections in great detail. He has a different impression of the mayoral forum than I do, a much more in-depth recap of it, and asked both candidates some questions of his own before endorsing Napier. For more information, you can also check out the other candidates forum.
Ward 2: John Justen vs. Jim Probst
This race is a little trickier. Neither John Justen nor Jim Probst (no website) has ever been on the city council before, so I can't point at one of them and say, "This guy's to blame for Robert Street! Vote the other guy!" I don't know for sure who's best for the job here. I watched their first candidates' forum. My impression was that John Justen brings expertise to the table. As a business owner on Robert Street (Eclipse Music, great store), he has a lot of depth on specific issues. Jim Probst brings connections; he's been heavily involved with a number of key local organizations like the South Robert Street Business Association, the local Chamber of Commerce, and the Kiwanis. Probst talked about our top priorities as being our taxes (they're getting too high too fast) and economic development (we need a lot more businesses and jobs to get us out of this fiscal hole). Justen talked about our top priorities being our public relations, both internally and externally -- building our shared community vision, sharing more information with the community, and fixing our government's damaged reputation. I haven't seen a lot of direct disagreement between the candidates, either here or elsewhere, so it's difficult for me to form a judgment as to which is better. Both are quite likable. When I drive down my street, I notice that nearly all the Napier supporters have Justen signs up, and nearly all the Fernandez supporters have Probst signs up. It happens way too often to be a coincidence. I don't know what what that tells you. I'm guessing it has something to do with local political parties, but, ever since I resigned from the MN GOP in 2016 over the Trump nomination, I haven't had any awareness of what either party's organization is doing. Right now, I'm leaning toward Jim Probst, largely because of his focus on the fiscal situation. Again, I'm for spending money when we have it... but we don't. That makes fiscal responsibility really important right now, whereas I probably wouldn't have made it a key voting issue in past elections. Once again, Kevin Hendricks has a different perspective on this race, which I invite you to check out before committing to your final decision. Plus, there's a second candidates' forum that I am still hoping to watch before Election Day.
Ward 3: Dave Meisinger vs. Wendy Berry
Given everything I've said above about Robert Street, this should be an easy call. Dave Meisinger is sort of the tragic hero of the Robert Street story. He was elected mayor in order to stop our city from plunging the knife into our ledger, but, even with the power of the mayoral veto, he was unable to shake the council from its stubborn course. I've sung his praises several times already in this blog post. Now he's back to try to win a seat on the council and carry us forward into a fiscally responsible future. Meanwhile, Dave's opponent, Wendy Berry, speaks positively on her website about the Robert Street rebuild, and touts endorsements from some of those involved in that project. Plus, if I told you to vote for Dave, that would complete my trifecta of endorsing the exact opposite candidates of Kevin Hendricks. So this should be easy: vote for Dave. But hang on. The elephant in the room I haven't talked about yet is the truly bizarre, extremely sexist attacks on incumbent Mayor Jenny Halverson and another individual earlier this year. After a charged city council meeting where certain members were accused of applying a double standard to Mayor Halverson's appointees, some nutter or nutters left a box of tampons at Mayor Halverson's house under cover of darkness, rang the doorbell, and ran off. They then did the same thing to another woman, leaving her a box of kleenex. Oh, and they also sabotaged her tires, as well as the tires of several other Halverson supporters, including John Justen (running in Ward 2) and Wendy Berry (running in this race). Now, I'm not a big fan of Halverson. She has backed Robert Street to the hilt. But this kind of late-night, sexually charged intimidation of our elected mayor is a really ugly thing that brought our city statewide attention in the worst possible way. We already have a President who is on tape displaying the deepest contempt for women. We absolutely must not accept our local politics degenerating into the same misogynist circus. What's this have to do with Dave Meisinger? Well, first there is some reason to believe that Meisinger was the individual responsible for the incident. Second, around the time all this went down, Meisinger was in a political discussion about this incident on the City Pages website. He was speaking with a woman named Andrea Honeycutt when he lost his temper and called her a "cunt:"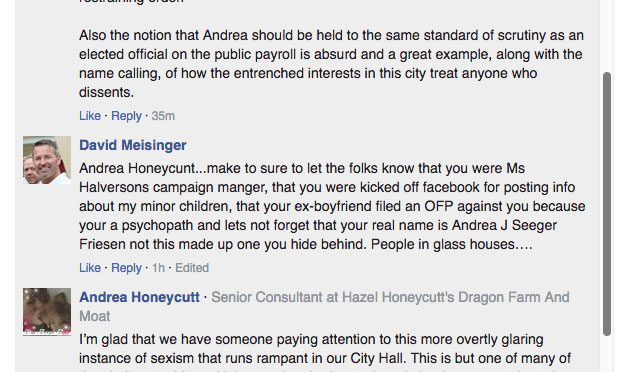 Meisinger's comment has since been deleted, but the rest of the thread is still there today. (Thanks to Kevin Hendricks for grabbing the screenshot.) And calling a woman the c-word in an online posting is clearly inexcusable. Look. We've all had to make some tough choices in politics lately. We've all had to decide whether to vote for a bad person in order to prevent an even worse outcome. Many of you watched me agonize last fall about whether to vote for the manifestly vicious Trump in order to stop Clinton, who would destroy so many causes I care about so much. Tonight, a lot of Minnesota Democrats are agonizing over whether to vote for Keith Ellison, despite credible abuse allegations against him, in order to stop Doug Wardlow, whom they perceive as a grave threat to justice. (I think they're wrong about Wardlow, who will be a great A.G., but they come by their belief honestly.) In those statewide and federal races, yes, your vote carries life-or-death consequences for real people no matter how you decide. But the West Saint Paul Ward 3 City Council election isn't one of those races. Robert Street is important, but it isn't as important as standing up for a positive environment free of harassment in our own city hall. Whether or not Meisinger is personally responsible for the harassment campaign that happened in April, his City Page comment using the "c-word" shows that Dave Meisinger is very much part of the problem. Despite his good work on Robert Street, he should not be returned to City Hall. Wendy Berry will probably not pursue policies that are (in my opinion) good for the city, but her opponent is part of a toxic environment that needs to be eradicated yesterday. I respectfully suggest you vote for Wendy Berry.
Ballot Question: Sales & Use Tax
Well, this stinks. Even if we agree to vote out the people who are responsible for the Robert Street fiscal disaster, we can't fix the problems they created. Robert Street put us in debt and we now have to find other money in order to pay for our other obligations. Could a sales and use tax be the answer? Yes, but I think it's a bad answer, for these reasons: (1) Sales taxes are regressive. That is, a sales tax hurts poor people more than it hurts wealthy people, essentially punishing them for being poor. This is because poor people need to spend a much greater percentage of their income on local goods and services just to get by, whereas rich people can save their income, invest it, and more easily spend it elsewhere. (After all, we've all got Amazon Prime. For the folks south of Annapolis, that's... less likely.) This is not how a tax should work, especially not in an area marked by fairly stark income differences. There are some circumstances where a regressive tax is unavoidable (you can't set bus fares as a percentage of rider income), but they should be avoided wherever possible. I don't see an argument for having a regressive tax here except, "I want to avoid a property tax hike and don't care if low-income people on the West Side have to help me pay for it." It's not a big deal to a lot of us, but, if you're living paycheck-to-paycheck, maybe with some government assistance in the mix, every dollar counts, and the $50-60 a year this will cost you is a meaningful amount of money. (2) Two, the iron law of taxes is, if you tax something, you get less of it. All candidates for higher office in West Saint Paul right now seem to agree that what West Saint Paul needs more than anything right now is more businesses and stronger development on Robert Street. So let's not discourage them by taxing the sales that keep them in business! That just does long-term damage to the city for the sake of hiding the costs of the city's own fiscal mismanagement. I know the argument from sales-tax advocates is, "Well, it's not that much money." But five cents out of every ten dollars for every sale in this city adds up, or they wouldn't be insisting we need this revenue stream. If it adds up to a meaningful number for the city, it adds up to a meaningful number for businesses... and, again, I don't see a reason to risk it when we other, more accountable revenue streams available. (3) The sales-tax proposal is a permanent solution to a temporary problem. The current municipal fiscal crunch will pass in a few years. If this ballot question included an expiration date, I'd feel a lot better about it. But once we have a sales tax, it will never, ever, ever go away. I'm not cool with that. (4) People talk a lot about the sales-tax aspect of this thing, but I've heard nobody say word one about the use-tax aspect. Do you realize what an unholy mess this is? I looked up the Minnesota Department of Revenue's use tax fact sheet. Turns out that, under a use tax, all residents/businesses in West Saint Paul become required to track all our purchases made outside the city of West Saint Paul. If we then use any of those items inside the city of West Saint Paul, we are required to pay the city the equivalent sales tax on the item's original purchase value! So if I buy a book from Barnes & Noble in Eagan (which has no use tax) for $8.00 and bring it back to WSP to read, I'm supposed to report that purchase on my tax return, then pay $0.04 to WSP as "use tax!" And that applies to every purchase I make outside this city! Now, I imagine the city has no interest in enforcing this against individuals, but imagine you're a small business trying to figure out how to get yourself set up in West Saint Paul, looking at purchases that go into the tens and hundreds of thousands of dollars (which is where a 0.5% use tax suddenly becomes real meaningful). Is the use tax something that encourages you or discourages you to open your shop here? How about when you consider that South Saint Paul is just down the road? (5) Maybe above all else, I just don't think it's a good idea to reward the fiscal mismanagement of our city by giving those responsible a get-out-of-jail-free card. Yes, money is going to be tight for a while. Yes, the city is going to try to get that money out of our property taxes... and they may have no choice. But it seems to me that there's a huge moral hazard in teaching the city that they're free to run our balance into the red because we'll bail them out at the ballot box. They need to learn to live within their means, and that starts now... even if it means we have to lower our sights for upcoming infrastructure projects, even if it means delayed road repair in some places until this fiscal crisis ends, even if it means some property tax hikes for us. If it preserves our good business climate until the Robert-induced fiscal crisis is over, it's a win. So I am going to vote No on the sales tax, and I encourage you to do the same. As usual, you can find an opposing viewpoint in Kevin Hendricks. Find anything inaccurate in this post? Let me know and I'll see whether it's something that ought to be fixed. As usual, if I receive any responses from any campaign, I will post it in full on the blog. UPDATE 12:15 PM: Actually, it looks like my wife and I will be in the hospital until after election day, so, my apologies, but I won't be able to respond to anything after all.